Multi-Function Grounded USB-C to Ethernet Dongle that charges other devices at the SAME TIME!
Regular price $89.99 Sale
This device lets you ground your laptop and surf the internet at the same time!
Connect any device that has a USB-C (aka Thunderbolt) connection to the internet - Macbooks, Chromebooks, androids and new iPhone 15s!
Plus! Use the multiple ports on the side to charge other devices! 
Why do you need to ground your device?
Laptops are almost always ungrounded.  This is a huge problem.  Cell phones need a way to connect to wired networks so you don't have to radiate yourself with WiFi.  We just improved our adapter big time!  Now you can charge your phone or tablet with this new adapter.  You can hook it up to a regular charger and this adapter will ground your charger.  You can hook it up to a battery pack (battery bank) for even cleaner charging while you are using the adapter.
Here's Why We Love the exclusive device created by Shaun Kranish, EMF engineer and consultant.
1) First and foremost -
it grounds your laptop!
Based on extensive research and testing, it's our opinion that all laptops should be grounded when they are being used while plugged-in to the power (charger).  The chargers generate too much high frequency electricity - and more of that will go through our bodies when the laptop isn't grounded (see 
this
 video)!!!  If they are in use on battery, then it's not necessary.  But we all wind up using them plugged-in at some point - batteries wear out after lots of cycles and it's just impossible to run them off battery all the time.
We always remind our Tech Wellness community to avoid using a laptop that's plugged in, but for times when that's just not possible(did someone say "low battery?)then by all means, use this grounded Ethernet adapter device.
This is Shaun who created the adapter showing the measurement of dirty electricity running through his body when the laptop is un-grounded and then grounded.
No Grounding: 9.97 Micro-amps 
Grounded Just 2.95 Micro-amps
2) Provides you with Ethernet (wired Internet)
Many newer laptops don't have Ethernet (LAN) ports nowadays.  People have bought into WiFi so much that superior and safer wired networking has been brushed off.  Plus newer laptops are getting thinner, so that's another reason they sometimes don't put an Ethernet port in them.  Good news - they all have USB ports!!!  So this adapter takes the USB port and turns it into a blazing-fast 1000 megabits per second (1 billion bits aka gigabit) Ethernet connection!
Here's Me, August showing you the EMF radiation when laptop is using WiFi
WiFi enabled shows levels of up to  9.794 Microwatts per square centimeter
When the Laptop is Wired to The Internet EMF levels of up to .0685!
3) Let's you charge your other device
We just improved our Ultimate adapter!  Now you can charge your phone, tablet, and some laptops (PD charging) while connecting to Ethernet (wired Internet networking).  Up to 100 Watt power delivery port.  Connect it to a battery bank or wall charger.  Connect it with a properly shielded USB-C cable and you will be grounded all around.
4) Gives you more USB 3.0 Ports (built-in hub)
Most adapters make you sacrifice an invaluable USB port in order to hook up Ethernet.  Or you have to buy a clunky separate USB hub.  Not anymore!!!  This adapter has the hub built-in.  The hub has 3 ports on it - so you actually keep your existing port and gain 2 new ones too!  All while having Ethernet at the same time.  Hook up a mouse or keyboard and get your computer farther away from you.
5) Gives you 4K Ultra-High-Definition video output with HDMI port
So many laptops now do not have video output connections on them.  Yet you'd like to hook your laptop to a TV or a monitor and put the laptop farther away from your body.  Now with our new and improved Ultimate adapter you can hook up a TV or monitor and enjoy up to 4K Ultra High Definition video.  The new improved Ultimate has an HDMI port which allows you to connect to all modern monitors/TVs with a safe shielded cord.  It will also ground your TV if your TV is not grounded (many TVs are not!)

6) Grounds your laptop using our Double Shielded Cat8 Cable

Here is the real magic: we've been wanting to do THIS for a long time!  Before we had to ground the laptop and then separately ground the Ethernet cable with a separate adapter.  But now we've developed a way to do it all at once.  This one-stop-shop adapter does everything!  If you plug a shielded Ethernet cable (with the metal ends) into our Ultimate Ground USB to Gigabit Ethernet Adapter with USB 3.0 Hub, it will also ground that cable for you!  This puts the cable at the same electrical potential as your now-grounded laptop. This is by far our best recommended way to do computing!
Keep in mind we only recommend the shielded Ethernet cables we carry, because not all shielded cables are made the same!  The category (Cat 7 for example) rating on cables has nothing to do with EMF exposure to humans - it is only about data transfer capabilities.  So not all Cat 6/Cat6a/Cat7 cables are made the same.  Stick with ours that you know you can rely on.
NOTE:  Will not charge iPhone 8
Plugs into USB-C Port and offers 5Gbps (gigabits per second) connection speed
NO wireless/WiFi transmitter
1 USB-C charging port
3 Port USB 3.0 hub built-in
1 HDMI video port supporting 4K Ultra High Definition video output
1 x 10/100/1000 (Gigabit) Ethernet Port for wired networking
16-gauge 3-prong ground-only plug for grounding purposes
No discounts apply
Related Products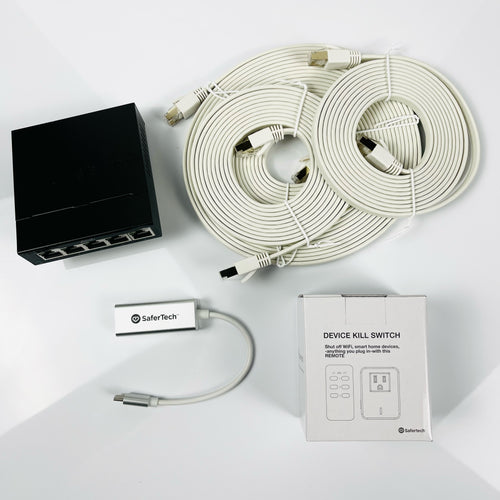 Hard Wire KIT! Turn Off WiFi and wire up your internet. Connect All Devices To The Internet--Phones laptops, tablets All EMF-Free!
Everything you need to Wire Up your home and turn off that WiFi!  Of course you can use the WiFi to connect your devices to wired Ethernet cables for faster speed and to give you...
Read More »
Regular price
$322.00
$299.00

Sale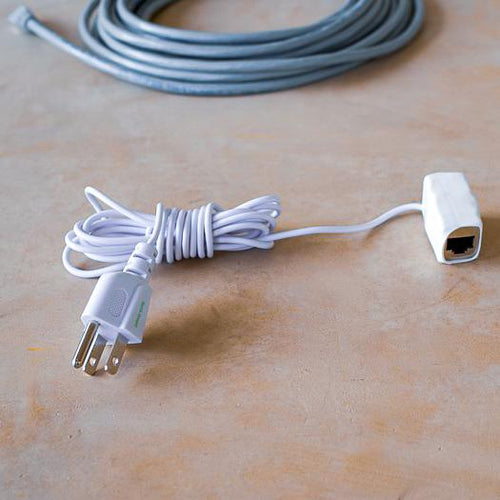 Ethernet Grounding Device. Concerned about Dirty Electricity? Use Grounded Ethernet Cables With This Grounding Ethernet Electrical Device!!
Building Biologist Shaun Kranish recommends eliminating any chance of dirty electricity by connecting your router or modem to a Ethernet Grounding Device.  The Grounding Device is hand made with has a component that lets you plug one grounded cable into...
Read More »