Faraday Bag for Laptops and Tablets• Affordable Privacy + EMF Protection that works!
Regular price $104.95 Sale
The most effective protection against EMF coming from your devices.
Each faraday bag combines Privacy Enhancing Technology with beautiful style to prevent  EMR or electromagnetic radiation from WiFi signal and Bluetooth wireless energy from getting in or out of the bag.
How does A Faraday Bag work?
It's actually a mini but mighty faraday cage.A Faraday cage or Faraday shield is an enclosure used to block electromagnetic fields.
We love these finely tailored 100% protective Anti Radiation cases because they keep all wireless RF radiation from getting in and connecting with our devices and they keep the EMF radiation emitted from our phones and laptops from getting out and exposing us to harmful wireless energy.
Beautifully made, each has a nice sewn in non-faraday front pocket.
Plus your location and any other information a snoopy phone or app would be interested in having-will be impossible to get. No Signal in. No Signal out.
If It's Your Mission To Find EMF Protection Case with Substance and Style, Look For the Best Quality

This finely crafted  case renders wireless energy, from BlueTooth and WiFi Signals Completely void.  Wireless EMF protection that's beautiful.  Remove the device from the case in order to  send and receive signal.  There's NO need to put the phone on airplane. Phone goes off when it's in the case and works normally when it's removed!

You're safe, private and off the grid!
Silence Tracking With Our Top Faraday For Privacy 2022
Airplane Mode will not prevent your smartphone GPS.  If you want to keep you whereabouts your exclusive business, then pop your phone in a Faraday.  The Faraday bag will not allow your phone to receive GPS signal. 
When the phone is is our Faraday, you can avoid tracking nuances like Geofencing and  geo-targeting from advertisers.  Ahhh, that feels nice.
A faraday is the ONLY case that can truly offer EMF radiation protection.
EMR  Tested To Block all Wireless(even mmWave)up to 39 GHZ
Computer and Tablet Nylon Faraday Cases come in 4 sizes: 
 LARGE TABLET FARADAY CASE 

Up to iPad 8", Galaxy Tab 7.7", Amazon Fire 8"




Internal Use Dimensions: 8.66 x 6.30 in, 22 x 16 cm




External Dimensions: 9.66 x 7.3 in, 24.4 x 18.5 cm




Weight: .4 lbs, .18 kg

EXTRA LARGE FARADAY CASE

Up to iPad 10.5", Galaxy tab 9", Amazon Fire 10.1"




Internal Use Dimensions: 11.02 x 8.27 in, 28 x 21 cm




External Dimensions: 12.8 x 9.53 in, 32.5 x 24.2 cm




Weight: .55 lbs, .25 kg



13 IN COMPUTER FARADAY CASE 

External Dimensions 13/14 inch: 14.58 x 11.24 in, 37 x 28.5 cm

Internal Use Dimensions 13 inch: 13.58 x 10.24 in, 34.5 x 26 cm

Up to Apple Macbook Pro 14", Microsoft Surface 13

Weight 13 inch: Nylon .7 lbs, .32 kg, Leather .75 lbs, .34 kg

15 IN COMPUTER FARADAY CASE 

External Dimensions 15/16 inch: 17.14 x 12.4 in, 43.5 x 31.5 cm

Internal Use Dimensions 15 inch: 16.14 x 11.4 in, 41 x 29 cm

Up to Apple Macbook Pro 16", Microsoft Surface 15"

Weight 15 inch: Nylon .85 lbs, .39 kg, Leather .9 lbs, .41 kg
Additional info:

 

 Wireless signals, RFID and NFC and Magnetic Fields or ELF
Commonly referred to as wireless signals (Radio Frequency or RF for short) are used in communication for your phone, tablet, car radio, computer, credit card, etc. The electronic transmission of this data is done wirelessly and poses many problems to your security and privacy. It makes ALL of your information open to be intercepted. 
RFID stands for Radio-Frequency Identification. You should care about protecting your cards with embedded RFID chips because it holds sensitive personal information about you and your family. There is an epidemic of this information being wirelessly lifted (commonly referred to as skimmed, scanned or hacked) while traveling. Having this info land into the wrong hands only means headache, financial troubles and identity theft. By utilizing our wallet collection you instantly safe guard all your information on your cards and passport.
NFC means Near Field Communication. This is just like RFID, except it can communicate both ways making data transferable to and from a the chip. This is what Google Wallet and Apple Pay utilize for transmission of your credit card information at a point of purchase.
And it's important to note, so I'll note it here.  Metallic materials including  faraday bags, cases and shields to not block low frequency or ELF magnetic fields.  They can shield electric fields , but not magnetic.
Shields 100+ dB, Blocks frequencies between 800MHz – 5 GHz, Blocks CDMA, GSM, DCS, PHS, 3G, 4G, LTE, Blocks WiFi (2.4 - 5 GHz), Bluetooth (2.4 GHz) and GPS (1-2 GHz), Blocks RFID and NFC in 13.56 MHz, Blocks Carrier, hardware, and OS agnostics Here is what you can control:

Blocks the connection of any phone, in any country, on any network, Blocks GPS tracking and GEO location, Protects against identity theft, Protects against cell phone spying of microphone and camera, Blocks RFID chips in passports and credit cards, Blocks smart keys and electronic car keys or key fobs, Shields against EMR radiation, Shields against static shock
Related Products
PRIVACY PROTECTION PACK: Camera Covers, Faraday Bag & Password Book
**Out of Stock! But will return before Christmas! Check back soon! The perfect gift to help the ones you love protect their digital privacy!   This gift set includes three of my go to protects to help safeguard privacy in...
Read More »
Regular price
$69.00
$62.00

Sale
Sold out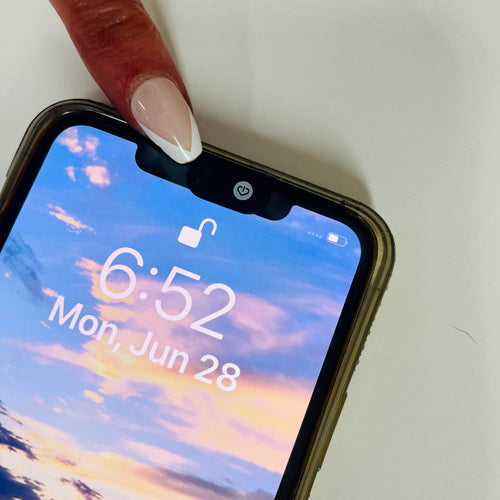 Sliding Camera Covers. Block Your Camera With Our Privacy Please! Sliding Covers In Lot's Of Pretty Colors for Smartphones, Laptops, Tablets and Computer Screens
It's way-way crazy that this has to be a distressing digital factoid, but bottom line: Cover your Camera.  On any and all of your devices! My daughter is all about the selfie Cam cover now. She slides it...
Read More »