Wire Up Your iPhone
WOW! This makes your iPhone Safer and Super Fast. Connect iPhone directly to the internet with this wired adapter and shielded cable. No WiFi radiation and no slow connections. Using iphone wired to the internet lets you Skype, FaceTime, send texts, watch videos—basically every phone function except for cellphone calling. We tried several for iphone
get this adapter
, but this one works best. Super fast, easy to use, compatible range and comes with a warranty! The Hard Wire Kit
This Kit has a Switcher, Cables and everything you need to hard wire your WiFi router OR if you have Ethernet outlets, it allows you to use them to hard wire several devices-phones, laptops and computers at once!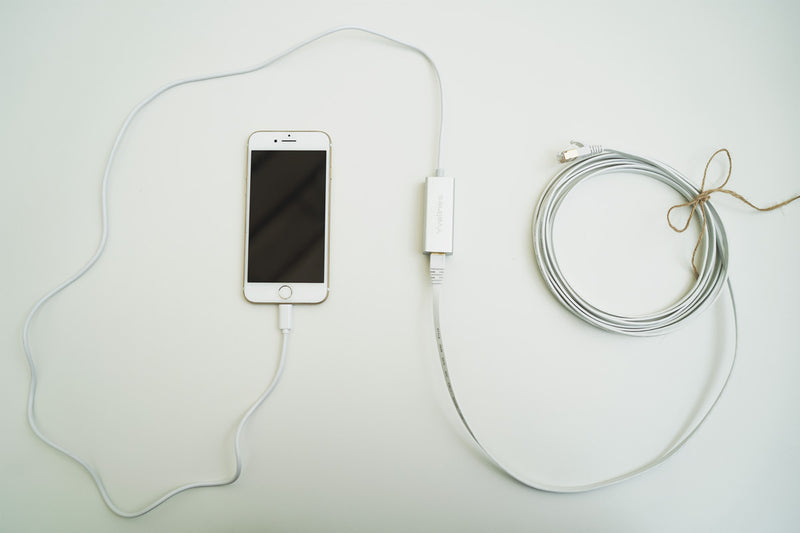 Amazing! Worked as advertised.
Love this company and products! Everything was explained well and easy to set up.
Ethernet Cable
As a homeschooling parent on a tight budget, I truly appreciate the reasonable priced Ethernet cable! My highschooler spends several hours researching online so this has been an important part of keeping our family well. Thank you!
Baby Monitor
Excited to use this for my baby monitor and be wifi free!
Excellent service and products thank you
Excellent service and products thank you
Works great!
I've wired my laptop and have the cord running upstairs. I also bought a 2nd cable for the desktop downstairs. It works great & I'm glad I can finally use my laptop & get online without wifi! Having a cable running from the family rm, past the kitchen and upstairs isn't ideal but i don't notice the cable anymore & I can easily take it down when having ppl over. I don't notice a speed difference. I wasn't looking for increased speeds so that wasn't a priority. My brother who works in the tech field said that I would need a different setup in order to have increased speeds. I would suggest for anyone who considers increased speed a high priority to make sure that you have the rt setup 1st.
Thank you Stephanie! We love that you're using your laptop without WiFi!!! --And that you're really enjoying being online without RF radiation!!